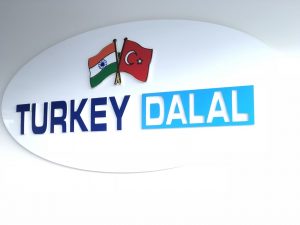 TURKEY DALAL COMPANY, a Brokerage Office was founded as a sole proprietorship at Istanbul in Turkey. It has gone through considerable achievement in a short period of time for multiple commodities in Agricultural products and Paint products exactly to the desires of its valuable clients.
Turkey Dalal Company has gained the business and respect of firms and industries during its main service areas and today, Turkey Dalal Company is an undoubtedly one of the key player in the Turkish and Indian market as Turkey Dalal Company constantly exploring new prospects for Turkish and Indian markets.
Our Strategy is to strengthen our position as a key player in Brokerage to meet the global demand of Agricultural Commodities, Pulses, Oil Seeds, Paint products and Chemicals in a responsible way.
Our Mission 
Providing quality products and services to help enhancing our customer's business
Providing excellent service and support.
Providing timely and efficient deliveries.
Offering comprehensive market report utilizing our product knowledge and experience.
What We Offer
Precise Market Reports.
Strong Reputed Customers and Suppliers Portfolio.
Excellent Client Protection.
Excellent Quality Control.
Extraordinary after Sale Service.
Our History
In early 2014, Turkey Dalal Company was Founded in Istanbul, Turkey.
In mid 2015, Turkey Dalal Company has started making significant in-roads in the Commodities Market World-wide.
In mid 2016, Turkey Dalal Company has performed exceptionally well and begin to control the Oil Seed market.
By 2017 and 2018 Turkey Dalal Company is one of the best reliable brokers for Oil Seeds exports from Turkey recognized by the Importers and Exporters all over the World
updated on 12-07-2023