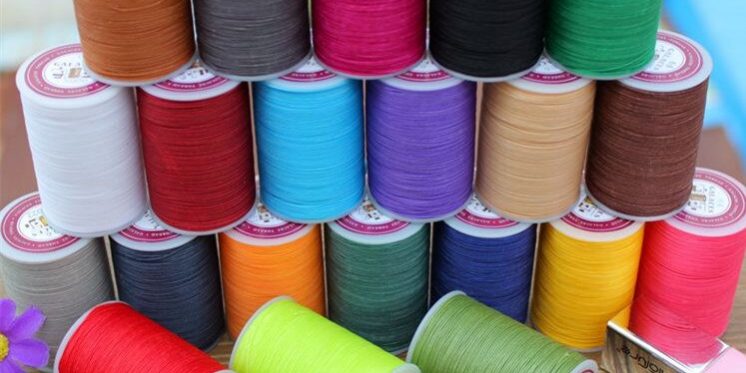 Polyester is a category of polymers that contain the ester functional group in their main chain. As a specific material, it most commonly refers to a type called polyethylene terephthalate (PET). Polyesters include naturally occurring chemicals, such as in the cutin of plant cuticles, as well as synthetics such as polybutyrate. Natural polyesters and a few synthetic ones are biodegradable, but most synthetic polyesters are not. The material is used extensively in clothing.
Polyester fibers are sometimes spun together with natural fibers to produce a cloth with blended properties. Cotton-polyester blends can be strong, wrinkle- and tear-resistant, and reduce shrinking. Synthetic fibers using polyester have high water, wind and environmental resistance compared to plant-derived fibers. They are less fire-resistant and can melt when ignited.
Polyester blends have been renamed so as to suggest their similarity or even superiority to natural fibers (for example, some varieties of China silk, which is an essentially deceptive term in the textiles industry for a synthetic fiber woven to resemble the sheen and durability of insect-derived silk, are 100% polyester or a polyester-rayon blend.)
Liquid crystalline polyesters are among the first industrially used liquid crystal polymers. They are used for their mechanical properties and heat-resistance. These traits are also important in their application as an abradable seal in jet engines.
Natural polyesters could have played a significant role in the origins of life. Long heterogeneous polyester chains and membraneless structures are known to easily form in a one-pot reaction without catalyst under simple prebiotic conditions.
Fabrics woven or knitted from polyester thread or yarn are used extensively in apparel and home furnishings, from shirts and pants to jackets and hats, bed sheets, blankets, upholstered furniture and computer mouse mats. Industrial polyester fibers, yarns and ropes are used in car tire reinforcements, fabrics for conveyor belts, safety belts, coated fabrics and plastic reinforcements with high-energy absorption. Polyester fiber is used as cushioning and insulating material in pillows, comforters and upholstery padding. Polyester fabrics are highly stain-resistant—in fact, the only class of dyes which can be used to alter the color of polyester fabric are what are known as disperse dyes.
Polyesters are also used to make bottles, films, tarpaulin, canoes, liquid crystal displays, holograms, filters, dielectric film for capacitors, film insulation for wire and insulating tapes. Polyesters are widely used as a finish on high-quality wood products such as guitars, pianos and vehicle/yacht interiors. Thixotropic properties of spray-applicable polyesters make them ideal for use on open-grain timbers, as they can quickly fill wood grain, with a high-build film thickness per coat. Cured polyesters can be sanded and polished to a high-gloss, durable finish.
Exporters of Green apple in turkey, Producers of Green apple in turkey, Suppliers of Green apple in turkey, Broker of Green apple in turkey, Manufacturer of Green apple in turkey, Seller of Green apple in turkey Exporters of Red apple in turkey, Producers of Red apple in turkey, Suppliers of Red apple in turkey, Broker of Red apple in turkey, Manufacturer of Red apple in turkey, Seller of Red apple in turkey Exporters of Whey powder in turkey, Producers of Whey powder in turkey, Suppliers of Whey powder in turkey, Broker of Whey powder in turkey, Manufacturer of Whey powder in turkey, Seller of Whey powder in turkey Exporters of Textile dyes fabric paint in turkey, Producers of Textile dyes fabric paint in turkey, Suppliers of Textile dyes fabric paint in turkey, Broker of Textile dyes fabric paint in turkey, Manufacturer of Textile dyes fabric paint in turkey, Seller of Textile dyes fabric paint in turkey Exporters of Lemon in turkey, Producers of Lemon in turkey, Suppliers of Lemon in turkey, Broker of Lemon in turkey, Manufacturer of Lemon in turkey, Seller of Lemon in turkey Exporters of Crystal menthol in turkey, Producers of Crystal menthol in turkey, Suppliers of Crystal menthol in turkey, Broker of Crystal menthol in turkey, Manufacturer of Crystal menthol in turkey, Seller of Crystal menthol in turkey Exporters of Poppy seed oil in turkey, Producers of Poppy seed oil in turkey, Suppliers of Poppy seed oil in turkey, Broker of Poppy seed oil in turkey, Manufacturer of Poppy seed oil in turkey, Seller of Poppy seed oil in turkey Exporters of Pomegranate in turkey, Producers of Pomegranate in turkey, Suppliers of Pomegranate in turkey, Broker of Pomegranate in turkey, Manufacturer of Pomegranate in turkey, Seller of Pomegranate in turkey Exporters of Carrot in turkey, Producers of Carrot in turkey, Suppliers of Carrot in turkey, Broker of Carrot in turkey, Manufacturer of Carrot in turkey, Seller of Carrot in turkey Exporters of Desiccated coconut in turkey, Producers of Desiccated coconut in turkey, Suppliers of Desiccated coconut in turkey, Broker of Desiccated coconut in turkey, Manufacturer of Desiccated coconut in turkey, Seller of Desiccated coconut in turkey Exporters of Clove in turkey, Producers of Clove in turkey, Suppliers of Clove in turkey, Broker of Clove in turkey, Manufacturer of L Clove in turkey, Seller of Clove in turkey Exporters of Dried chili pepper in turkey, Producers of Dried chili pepper in turkey, Suppliers of Dried chili pepper in turkey, Broker of Dried chili pepper in turkey, Manufacturer of Dried chili pepper in turkey, Seller of Dried chili pepper in turkey Exporters of Pear in turkey, Producers of Pear in turkey, Suppliers of Pear in turkey, Broker of Pear in turkey, Manufacturer of L Pear in turkey, Seller of Pear in turkey Exporters of Coriander seed in turkey, Producers of Coriander seed in turkey, Suppliers of Coriander seed in turkey, Broker of Coriander seed in turkey, Manufacturer of Coriander seed in turkey, Seller of Coriander seed in turkey Exporters of Red chili in turkey, Producers of Red chili in turkey, Suppliers of Red chili in turkey, Broker of Red chili in turkey, Manufacturer of Red chili in turkey, Seller of Red chili in turkey Exporters of Activated carbon in turkey, Producers of Activated carbon in turkey, Suppliers of Activated carbon in turkey, Broker of Activated carbon in turkey, Manufacturer of Activated carbon in turkey, Seller of Activated carbon in turkey Exporters of Green chili in turkey, Producers of Green chili in turkey, Suppliers of Green chili in turkey, Broker of Green chili in turkey, Manufacturer of Green chili in turkey, Seller of Green chili in turkey Exporters of White poppy seed in turkey, Producers of White poppy seed in turkey, Suppliers of White poppy seed in turkey, Broker of White poppy seed in turkey, Manufacturer of White poppy seed in turkey, Seller of White poppy seed in turkey, Exporters of Blue poppy seed in turkey, Producers of Blue poppy seed in turkey, Suppliers of Blue poppy seed in turkey, Broker of Blue poppy seed in turkey, Manufacturer of Blue poppy seed in turkey, Seller of Blue poppy seed in turkey, Exporters of Almond in turkey, Producers of Almond in turkey, Suppliers of Almond in turkey, Broker of Almond in turkey, Manufacturer of Almond in turkey, Seller of Almond in turkey, Exporters of Apricot kernels in turkey, Producers of Apricot kernels in turkey, Suppliers of Apricot kernels in turkey, Broker of Apricot kernels in turkey, Manufacturer of Apricot kernels in turkey, Seller of Apricot kernels in turkey, Exporters of pistachios in turkey, Producers of pistachios in turkey, Suppliers of pistachios in turkey, Broker of pistachios in turkey, Manufacturer of pistachios in turkey, Seller of pistachios in turkey, Exporters of Dried apricot in turkey, Producers of Dried apricot in turkey, Suppliers of Dried apricot in turkey, Broker of Dried apricot in turkey, Manufacturer of Dried apricot in turkey, Seller of Dried apricot in turkey, Exporters of Caraway seeds in turkey, Producers of Caraway seeds in turkey, Suppliers of Caraway seeds in turkey, Broker of Caraway seeds in turkey, Manufacturer of Caraway seeds in turkey, Seller of Caraway seeds in turkey, Exporters of Tomato in turkey, Producers of Tomato in turkey, Suppliers of Tomato in turkey, Broker of Tomato in turkey, Manufacturer of Tomato in turkey, Seller of Tomato in turkey, Exporters of Skimmed milk powder in turkey, Producers of Skimmed milk powder in turkey, Suppliers of Skimmed milk powder in turkey, Broker of Skimmed milk powder in turkey, Manufacturer of Skimmed milk powder in turkey, Seller of Skimmed milk powder in turkey, Exporters of Cumin seed in turkey, Producers of Cumin seed in turkey, Suppliers of Cumin seed in turkey, Broker of Cumin seed in turkey, Manufacturer of Cumin seed in turkey, Seller of Cumin seed in turkey, Exporters of Susam sesame seeds in turkey, Producers of Susam sesame seeds in turkey, Suppliers of Susam sesame seeds in turkey, Broker of Susam sesame seeds in turkey, Manufacturer of Susam sesame seeds in turkey, Seller of Susam sesame seeds in turkey, Exporters of Denim yarn in turkey, Producers of Denim yarn in turkey, Suppliers of Denim yarn in turkey, Broker of Denim yarn in turkey, Manufacturer of Denim yarn in turkey, Seller of Denim yarn in turkey, Exporters of Polyester yarn in turkey, Producers of Polyester yarn in turkey, Suppliers of Polyester yarn in turkey, Broker of Polyester yarn in turkey, Manufacturer of Polyester yarn in turkey, Seller of Polyester yarn in turkey, Exporters of Nigella seeds in turkey, Producers of Nigella seeds in turkey, Suppliers of Nigella seeds in turkey, Broker of Nigella seeds in turkey, Manufacturer of Nigella seeds in turkey, Seller of Nigella seeds in turkey, Exporters of Chickpeas in turkey, Producers of Chickpeas in turkey, Suppliers of Chickpeas in turkey, Broker of Chickpeas in turkey, Manufacturer of Chickpeas in turkey, Seller of Chickpeas in turkey, Importers of Green apple in turkey, Consumers of Green apple in turkey, Buyers of Green apple in turkey, Broker of Green apple in turkey, Agents of Green apple in turkey, Customers of Green apple in turkey, Importers of Red apple in turkey, Consumers of Red apple in turkey, Buyers of Red apple in turkey, Broker of Red apple in turkey, Agents of Red apple in turkey, Customers of Red apple in turkey, Importers of Whey powder in turkey, Consumers of Whey powder in turkey, Buyers of Whey powder in turkey, Broker of Whey powder in turkey, Agents of Whey powder in turkey, Customers of Whey powder in turkey, Importers of Textile dyes fabric paint in turkey, Consumers of Textile dyes fabric paint in turkey, Buyers of Textile dyes fabric paint in turkey, Broker of Textile dyes fabric paint in turkey, Agents of Textile dyes fabric paint in turkey, Customers of Textile dyes fabric paint in turkey, Importers of Lemon in turkey, Consumers of Lemon in turkey, Buyers of Lemon in turkey, Broker of Lemon in turkey, Agents of Lemon in turkey, Customers of Lemon in turkey, Importers of Crystal menthol in turkey, Consumers of Crystal menthol in turkey, Buyers of Crystal menthol in turkey, Broker of Crystal menthol in turkey, Agents of Crystal menthol in turkey, Customers of Crystal menthol in turkey, Importers of Poppy seed oil in turkey, Consumers of Poppy seed oil in turkey, Buyers of Poppy seed oil in turkey, Broker of Poppy seed oil in turkey, Agents of Poppy seed oil in turkey, Customers of Poppy seed oil in turkey, Importers of Pomegranate in turkey, Consumers of Pomegranate in turkey, Buyers of Pomegranate in turkey, Broker of Pomegranate in turkey, Agents of Pomegranate in turkey, Customers of Pomegranate in turkey, Importers of Carrot in turkey, Consumers of Carrot in turkey, Buyers of Carrot in turkey, Broker of Carrot in turkey, Agents of Carrot in turkey, Customers of Carrot in turkey, Importers of Desiccated coconut in turkey, Consumers of Desiccated coconut in turkey, Buyers of Desiccated coconut in turkey, Broker of Desiccated coconut in turkey, Agents of Desiccated coconut in turkey, Customers of Desiccated coconut in turkey, Importers of Clove in turkey, Consumers of Clove in turkey, Buyers of Clove in turkey, Broker of Clove in turkey, Agents of L Clove in turkey, Customers of Clove in turkey, Importers of Dried chili pepper in turkey, Consumers of Dried chili pepper in turkey, Buyers of Dried chili pepper in turkey, Broker of Dried chili pepper in turkey, Agents of Dried chili pepper in turkey, Customers of Dried chili pepper in turkey, Importers of Pear in turkey, Consumers of Pear in turkey, Buyers of Pear in turkey, Broker of Pear in turkey, Agents of L Pear in turkey, Customers of Pear in turkey, Importers of Coriander seed in turkey, Consumers of Coriander seed in turkey, Buyers of Coriander seed in turkey, Broker of Coriander seed in turkey, Agents of Coriander seed in turkey, Customers of Coriander seed in turkey, Importers of Red chili in turkey, Consumers of Red chili in turkey, Buyers of Red chili in turkey, Broker of Red chili in turkey, Agents of Red chili in turkey, Customers of Red chili in turkey, Importers of Activated carbon in turkey, Consumers of Activated carbon in turkey, Buyers of Activated carbon in turkey, Broker of Activated carbon in turkey, Agents of Activated carbon in turkey, Customers of Activated carbon in turkey, Importers of Green chili in turkey, Consumers of Green chili in turkey, Buyers of Green chili in turkey, Broker of Green chili in turkey, Agents of Green chili in turkey, Customers of Green chili in turkey, Importers of White poppy seed in turkey, Consumers of White poppy seed in turkey, Buyers of White poppy seed in turkey, Broker of White poppy seed in turkey, Agents of White poppy seed in turkey, Customers of White poppy seed in turkey, Importers of Blue poppy seed in turkey, Consumers of Blue poppy seed in turkey, Buyers of Blue poppy seed in turkey, Broker of Blue poppy seed in turkey, Agents of Blue poppy seed in turkey, Customers of Blue poppy seed in turkey, Importers of Almond in turkey, Consumers of Almond in turkey, Buyers of Almond in turkey, Broker of Almond in turkey, Agents of Almond in turkey, Customers of Almond in turkey, Importers of Apricot kernels in turkey, Consumers of Apricot kernels in turkey, Buyers of Apricot kernels in turkey, Broker of Apricot kernels in turkey, Agents of Apricot kernels in turkey, Customers of Apricot kernels in turkey, Importers of pistachios in turkey, Consumers of pistachios in turkey, Buyers of pistachios in turkey, Broker of pistachios in turkey, Agents of pistachios in turkey, Customers of pistachios in turkey, Importers of Dried apricot in turkey, Consumers of Dried apricot in turkey, Buyers of Dried apricot in turkey, Broker of Dried apricot in turkey, Agents of Dried apricot in turkey, Customers of Dried apricot in turkey, Importers of Caraway seeds in turkey, Consumers of Caraway seeds in turkey, Buyers of Caraway seeds in turkey, Broker of Caraway seeds in turkey, Agents of Caraway seeds in turkey, Customers of Caraway seeds in turkey, Importers of Tomato in turkey, Consumers of Tomato in turkey, Buyers of Tomato in turkey, Broker of Tomato in turkey, Agents of Tomato in turkey, Customers of Tomato in turkey, Importers of Skimmed milk powder in turkey, Consumers of Skimmed milk powder in turkey, Buyers of Skimmed milk powder in turkey, Broker of Skimmed milk powder in turkey, Agents of Skimmed milk powder in turkey, Customers of Skimmed milk powder in turkey, Importers of Cumin seed in turkey, Consumers of Cumin seed in turkey, Buyers of Cumin seed in turkey, Broker of Cumin seed in turkey, Agents of Cumin seed in turkey, Customers of Cumin seed in turkey, Importers of Susam sesame seeds in turkey, Consumers of Susam sesame seeds in turkey, Buyers of Susam sesame seeds in turkey, Broker of Susam sesame seeds in turkey, Agents of Susam sesame seeds in turkey, Customers of Susam sesame seeds in turkey, Importers of Denim yarn in turkey, Consumers of Denim yarn in turkey, Buyers of Denim yarn in turkey, Broker of Denim yarn in turkey, Agents of Denim yarn in turkey, Customers of Denim yarn in turkey, Importers of Polyester yarn in turkey, Consumers of Polyester yarn in turkey, Buyers of Polyester yarn in turkey, Broker of Polyester yarn in turkey, Agents of Polyester yarn in turkey, Customers of Polyester yarn in turkey, Importers of Nigella seeds in turkey, Consumers of Nigella seeds in turkey, Buyers of Nigella seeds in turkey, Broker of Nigella seeds in turkey, Agents of Nigella seeds in turkey, Customers of Nigella seeds in turkey, Importers of Chickpeas in turkey, Consumers of Chickpeas in turkey, Buyers of Chickpeas in turkey, Broker of Chickpeas in turkey, Agents of Chickpeas in turkey, Customers of Chickpeas in turkey